Hello, and WELCOME to Mania Manor!
July 31, 2014: "I'm Lila, Lady of the house: I am a Shih Tzu mix, rescued six years ago at age three, and I love living here in the Mark Twain Forest of the Southern Missouri Ozarks. There's a lot of work that goes into running the Manor, because these old humans DO need a lot of help but I'm just the one to do it! You know what I mean… taking them for walks, reminding them when the dog dish is empty, when it's time for my meds, when it's time to "kennel-up," and so on. Sometimes I think there's no end to my chores. Then, there's that elite old-timer who was here when I arrived. All HE wants to do is play with toys, sleep, and chase squirrels…"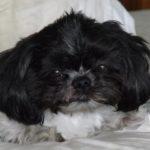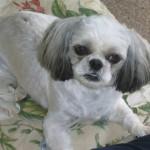 "Hi! I'm Louie, and I WAS HERE FIRST! I spent my first five years getting these humans whipped into shape,
and that GIRL had to come along and spoil everything. She had no toys when she got here, and she didn't even know how to chase a SQUIRREL! GEEZ!"
Please send us your pet's photo but, most important of all, PLEASE don't forget to tell us your pet's NAME!!!
You can post as many photos as you like – attach them to a message on the "Contact Us" page, or to an e-mail message.
Our e-mail is: shih_tzu_mania@outlook.com
***************************************************